Essentials for a trip to Osaka
The Osaka Round Trip Pass, sold by the Osaka Municipal Transportation Bureau, is an unlimited-ride passport that can be used on public transportation in Osaka City. It is an electronic card-type passport that allows unlimited rides for one day on the municipal New Tram, municipal buses, municipal subways and private railway lines, including parts of Sakai City and Amagasaki City, and is indispensable for sightseeing in Osaka.
Available from the first train to the last train
Just by passing your passport through an automatic ticket gate, you can use public transportation for one day (2-day passes are also available). In addition to being able to use the passport from the first train to the last train, you also get the benefit of free admission to 28 facilities in Osaka City, so if there are places you'd like to visit while sightseeing in Osaka, you'll get a great deal. The biggest attraction of this service is that you can use it efficiently and economically by checking the sightseeing route in advance.
I want to take full advantage of the benefits.
The TOKU×2 Coupon, which can be obtained by presenting your card ticket, entitles you to discounts and other privileges at 16 facilities. In some cases, you only need to present the card to receive the coupon, so it's a good idea to check in advance. The 28 facilities that can be used free of charge must be used on the same day as the ticket, but the coupon can be used at a later date. It is best to keep the coupons even after you have finished using them, as you will need to present the used ticket when presenting them.
Purchase and Utilization
About the purchase
"Osaka Round Trip Pass" can be purchased mainly at the Osaka Municipal Transportation Bureau, tourist information centers, hotels, etc. One-day passes are sold at transportation facilities, and in some cases, hotels accept credit cards. Tourist Information Centers and Tourist Information Plazas. The price is 2,300 yen for a one-day ticket and 3,000 yen for a two-day ticket (limited to use over two consecutive days). If you stay longer in Osaka, the two-day ticket is definitely more economical. There is no passport for children, but if you use the Enjoy Card, which allows unlimited one-day rides on all city subway, New Tram and bus lines, children can use it for only 300 yen. "
Difference between 1-day ticket and 2-day ticket
One-day passes are divided into spring/summer and fall/winter versions and must be used within the validity period. The one-day ticket can be used from the first train to the last train. On the other hand, 2-day tickets can be used for 2 consecutive days.
Recommended Model Course
"If you have unlimited public transportation for one day, I would like to make your trip to Osaka more efficient and save money. If you are a beginner of sightseeing in Osaka, I recommend you to go around the standard sightseeing course. From Namba Station, go via Nihonbashi Station and get off at Emisucho Station. Take a ride in front of Zoo Station after visiting Tsutenkaku Tower and Shinsekai Shopping Arcade, and get off at Namba Station again for a river cruise! After that, head to Osaka Castle or take advantage of the free admission to the Ferris wheel and aerial observation deck at Higashi Umeda, and finally rest your weary body at a natural hot spring. If you're using a 2-day pass, we also recommend staying at Universal Studios Japan or one of the official hotels."
About use from overseas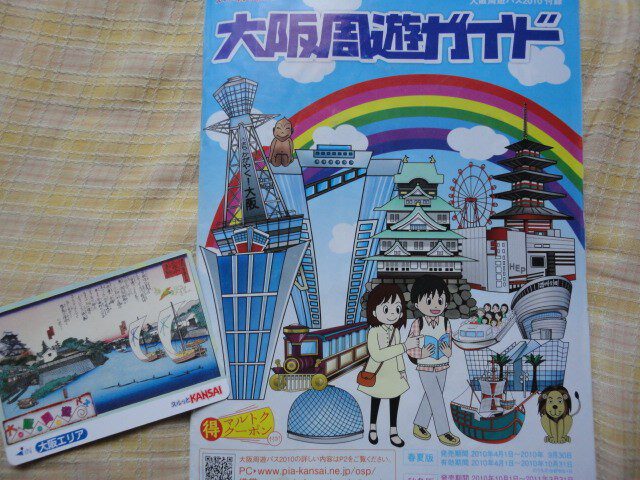 Foreign language guidebooks are also available.
The Osaka Round Trip Pass is convenient and economical. Although JR trains are not available, you can use subways, buses, and private railways to get to various tourist attractions, so make full use of it and enjoy your trip to Osaka.
Use from the airport
Since they are not sold at Osaka International Airport, most people travel by airport limousine bus and purchase them at major terminal stations such as Umeda and Namba Stations. At Kansai International Airport, the Nankai Kanku version (2,900 yen) is available for sale and can be used directly from Nankai Kansai Airport Station.